Deity TC-SL1 Wireless Bluetooth Timecode Smart Slate
LIMITED TIME OFFER
Receive your set of Last Look Labels FREE when added to check out cart with purchase of the Deity TC-SL1 Smart Slate. Online Sales Only
WORLD'S FIRST BLUETOOTH SMART SLATE

The TC-SL1 smart slate is the world's first Bluetooth phone app syncable wireless timecode slate. Showcasing state-of-the-art features, the TC-SL1 offers users the ability to download our free timecode slate app and control your timecode clapperboard. Sync your TC-SL1 at the same time you are wirelessly Bluetooth timecode syncing your TC-1 timecode generators.
Durable Compact Build; Uni-body Design

1/4″ TRS and 5-Pin LEMO TC Input/Output

Up to 250ft Range via our Bluetooth Timecode Slate App, Sidus Audio

Backlit Dry Erase Surface

LED Array Dot Matrix Display

USB-C 25 Watt Charging Port; Can Also Be Used For Firmware Updates

~1″ OLED rear display; On-Board Menu Navigation

Built-In Handle for One-Hand Operation

+25hrs of Battery Life; 100% Brightness Dot Matrix Display and 100% Backlit Dry Erase Display with Clapper Left Open
DIMMABLE DISPLAYS
Both the backlight and dot matrix timecode displays can be dimmed. In the menu you can set either to be 0-100% bright. When you open the clapperboard slate you trigger the display and backlight to turn on.
DON'T FLY OFF THE HANDLE
The TC-SL1 features a built-in handle so it can be operated with one hand. The top stick features a thumb notch making the process even more ergonomic.
CNC MILLED BODY
The TC-SL1 is built out of a single piece of aluminum and milled on a robotic CNC machine. This gives it a premium build quality and durability to feel great in your hands.
MORE BATTERY CAPACITY
Our timecode slate features dual NP-F battery bays. This allows you to hot-swap the batteries (if you forget to charge them) without having to power down your smart slate. And best yet, you can take your digital slate and plug it into a 25W USB-C charger overnight to top off your current NP-F batteries.
WIRELESSLY SYNC YOUR SLATE FROM YOUR PHONE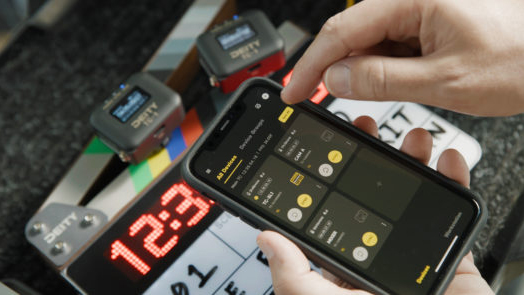 Connect all your devices to your phone or Macbook laptop via the Sidus Audio app.
With the app, you can control your TC-SL1's settings, monitor their status, and sync all your units at once.